Are you now thinking of Easter holidays 2021 ideas at home? Check out our blog post here for the latest events and activity ideas this Easter!
Just because half term is very different this year, it doesn't mean it needs to be boring! We'll still be working through half term, just will have the joys of not having to juggle homeschool with meetings.
I had a look around for ideas to keep Lily busy at home, as we still managed to have a fun half term at home last May, even with the restrictions in place – and it was great to keep Lily distracted while we were still working too – even if we know the weather isn't quite the same as in May!
So without further ado, here are some of our top ways of keeping the kids busy at home through February Half Term 2021, and as we find any more I'll get them added to the list.
The Spark Arts Festival for Children
We are huge fans of the Spark Arts for Children, as they put on fantastic events for families in and around Leicester every year. This year, the Spark Arts Festival for Children is digital, with live and on demand events, workshops, music, stories, activities and more for children of all ages and abilities to join in with at home.
Check out the full programme here
UK Kids' Comedy Festival
The UK Kids' Comedy Festival has live events running until 21st February 2021 as part of the Leicester Comedy Festival. Find out more here about the events for all ages.
For the older kids age 11-18, there's even the Laugh Term Comedy School on Monday 16th and Tuesday 17th February – click here for more information.
Learning Resources UK Festival of Fun
Anyone who follows us will know we're a huge fan of Learning Resources, and next week they're celebrating half term with a week-long Festival of Fun from Monday 15th February. Each day, Learning Resources will be sharing new activities families can easily do, and there will be lots of educational toys and games prizes up for grabs.
The activities are ideal for preschool and primary school-aged children and have been chosen to give kids a break from screen time and encourage fun, hands-on play. Follow Learning Resources' on Facebook or Instagram and check in each morning to find out what prizes and activities are underway that day.
What's more, to celebrate the landing of the NASA Perseverance Rover on Mars, Learning Resources has teamed up with the National Space Centre to offer a fun, space toy prize! Follow the National Space Centre on Instagram at for details.
For more on Learning Resources UK, check out our blog here on some of our favourite resources to help Lily with home learning as well as our Kidnoculars review here – great for getting the kids out in half term and beyond!
Virtual Dark Skies Festival
If you would like to find out more about the sky at night, check out the fantastic lineup from the Dark Skies Festival, with events being hosted by experts from some of our stunning National Parks across the UK, including nocturnal nature, stargazing and more.
Check out the full lineup here
Go #WildAtHome with Whipsnade Zoo!
Join in with some roar-some live streaming activities and more from the team at Whipsnade Zoo, or join in one of their #WildAtHome Challenges to help raise much-needed funds for the zoo while it remains closed. Budding veterinarians will first learn how to triage their teddy bear using materials from around their home and can later tune into a live health check on one of Whipsnade Zoo's rabbits, with vets and nurses talking through what they're doing and why.
Find out more about the events here
Virtual Forest School
Avocado Events have teamed up with Wild Things Family Forest School to host a beautiful love-themed Forest School on Friday Friday 19th Feb from 10 – 11am. It is ideally suited for 2 – 5 year olds (but all are welcome!), and it involves a love themed book – Guess How Much I Love You – followed by salt dough heart making & decorating. You can book onto the Zoom event only and use your own resources, or you can buy a special themed activity box, with prices between £5 – £15.
Find out more about the event here
Lambing Live at National Forest Adventure Farm
While we can't visit our favourite farms this year, there are a whole host of lambing events coming to your home. We love the EweTube at National Forest Adventure Farm where you can watch the live cameras from the lambing tents – you may even be lucky to see a lamb being born!
Check out Lambing Live here
Baking with online tutorials Calico & Cake
(Gifted to review) Calico & Cake have come up with a great way to keep the kids busy at home in half term while decorating these gorgeous biscuits.
By following their fantastic You Tube tutorials along with their decorating kits containing everything you need, you can create one or all three of these beautiful biscuits at home.
We had so much fun with ours and were so pleased with the results – the videos were super easy to follow and the kit had everything we needed. Lily even used a plastic kids safety knife (still supervised of course!) and had results we were so pleased with.
To order your pack from Calico and Cake, find out more here.
Daily farm tour – West Lodge Farm Park
Every morning in half term, enjoy an online virtual tour of the amazing West Lodge Farm Park. Lily has loved their virtual tours and live streams from the farm – especially seeing their new lambs 🐑 😍 we can't wait to come back as soon as we can, but until then, it is great to see the updates from the team!
Find out more here
Brighton Science Festival
For a full-on science spectacular in half term, check out Brighton Science Festival, where you'll find a whole host of fun activities and live events, looking at everything from the planets and the seasons through to science in your kitchen!
Check out the full lineup here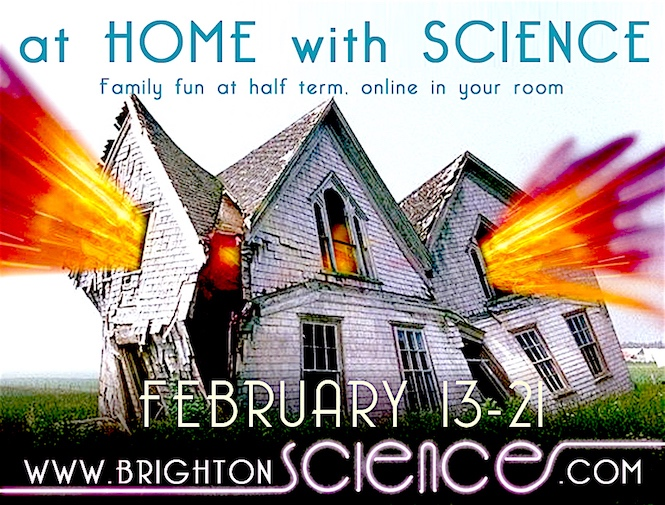 Let's Go See… Stories Inspired from Life at 40,000 ft!
While we can't go on real adventures, Let's Go See can still help us visit some of the most incredible locations around the world with Pilot Polly and Pilot Ollie, helping kids learn about other cultures and cities around the world.
There's also the Let's Go See app with a collection of activities for children with games, activities, puzzles and intuitive AR to help kids continue their journey around the world.
Check out their YouTube channel here or find the App on the Apple Store here or the Google Play Store here
Pancake Day
Pancake Day is on the 16th February – so why not use that as an excuse to batter up and have a 'flippin' awesome half term? We love any excuse for pancakes!
Check out these Miffy Pancakes for a fun idea or these Pancake Day Kids Activities ideas! We're also loving the Pancake Stack activities for primary school kids from Learning Resources UK – check them out here.
Local Outdoor Adventures
We know the weather isn't quite as great as it was in lockdown 1 in May half term, but we do love getting outdoors (locally right now, of course!) – the fresh air makes a world of difference, plus it's a great excuse for a hot chocolate afterwards!
From Scavenger Hunts to woodland crafts, check out our blog post here with 20 ideas for keeping your lockdown walks interesting!
Downloadable nature trail from Little Trekkers
Whether you download and print the trail or save it on your phone, we LOVE this simple and easy downloadable nature trail from Little Trekkers.
It's a great time of year to get outdoors, with signs of spring – so click here to check out this fantastic nature trail! We did it last year and will be doing it again this year too – and if you want even more ideas, check out the blog here we did with Little Trekkers for 10 things to do outdoors with the family this half term!
What's more, if you share pictures of your adventure with Little Trekkers using #MyLocalTrek on Instagram, you'll have a chance to win £10 to spend at Little Trekkers.
Camp Bestival Sunday Club
The Camp Bestival Sunday Club is a place for families to enjoy some fun together each weekend. Join the team on Facebook every Sunday for live talks, comedy, entertainment, shows, workshops & activities. If you miss out on Sunday, you can catch up any time of the week (or half term!) that suits you too!
We have all our fingers crossed for festivals to return this summer – check out our top family festivals here.
Virtual Zoo Days
Chester Zoo has become popular during lockdown for its Virtual Zoo Days, visiting everything from the meerkats through to the giraffes – catch up with them here
National Trust at home
Followers will know we're huge fans of National Trust properties, and can't wait to visit them again when we can. Until then, we're excited to check out the lineup from National Trust for February half term, including Sounds of Nature Bingo, 50 things lists and more. Find out more here
Downloadable activities
I think we're all overwhelmed with the number of incredible downloadable resources there are out right now, however we cannot recommend the ones from Learning Resources UK enough – they're easy to use, educational, and fun too! Click here to find out more
Build a den – have a campout, or upgrade!
Den building has been one of our favourite activities in lockdown, not just because it gave us something simple to do, but gave Lily a little place to escape to, when our own four walls are getting a bit boring.
Why not turn it into a campout in the living room for a fun sleepover, with a move and hot chocolate before bed? Or for even more fun, we upgraded our den to the Dinoski Dino Den, made out of recycled cardboard and currently reduced in the sale. Lily has loved colouring it in as an activity in itself – and the little campfire with it is just awesome!
Valentine's Day
We aren't really ones to celebrate Valentine's Day, but with the excuse to get crafty, get baking and mix up our activity themes at home a bit, we're all for a celebration of some kind!
We're leaving it to our lovely friends The Garcia Family to share their best ideas for a lockdown Valentine's Day – check out their blog here!
Play at Home Fest 2 – On Demand
We loved the Play at Home Fest virtual festivals, both 1 and 2, with so many crafts, activities, virtual music and more from the Good Play Guide. If you're looking for at-home fun with the family, you can catch up on all the fun on their YouTube channel here or find out more about the free festival here.
Get Creative with Discover Derby
From colour play and crafts through to MinecraftLAB, there are ideas for all ages over at Discover Derby. Find out more here.
Lamb Cam – Manor Farm Park & Woodlands
We love heading to Manor Farm Park & Woodlands so are really excited to check out their Lamb Cam from 13th-21st February. There will also be competitions, photos and more every day over on their Facebook page.
Head into Space!
The National Space Centre is taking you on a half term holiday to planet Earth at 11am each day. They'll be sharing activities and crafts for you to try at home, lessons, space stories and on Thursday 18 February NASA's Perseverance rover lands on Mars.
Find out more here
Looking for more space?
Lily doesn't watch much TV (we do try, honestly!), but she did really enjoy the Maddie, Space and You series from the National Space Centre over on CBeebies. It is educational, fun, and a great way for the kids to learn about space – plus gave me 20 minutes of time to make dinner!
It's available on BBC iPlayer now here.
Still looking for more ideas?
Check out our downloadable ideas for kids activities at home, both indoors and outdoors, here
Check out our May Half Term at home blog here
Find out here about how to still have your adventures at home
Check out our ideas on how to make family walks in lockdown more interesting here